Welcome to Dr Don Hirsh's Dental Surgery
located in an Edwardian style cottage on Carlisle Street, Balaclava, with easy access to tram, train and bus.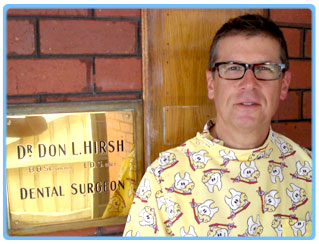 Dr. Hirsh provides a full spectrum of cosmetic dentistry, restorative dentistry, and general dentistry procedures for reasonable fees.

He is a graduate of Melbourne University and has over thirty years of experience in general and cosmetic dentistry and he is also a member of the Australian Dental Association.

The dental practice is very friendly and family orientated. The practice team is very good with children, sympathetic to the needs of older patients and shows great patience with all their clients.
We can help you achieve a great smile using the latest technology designed to minimise your treatment time and maximise your comfort, whilst delivering the best possible results.
We believe that dental health has a direct effect on the well-being of most people. Maintaining your oral health is the best way to avoid having to endure pain, tooth loss, and costly restorative procedures in the future. That's why we focus on thorough examinations – checking and assessing the overall health of your teeth, jaw, and gums, and taking x-rays when necessary.
We also know that routine cleanings, flossing, sealants, and fluoride are all helpful in preventing dental disease. Not only are we focused on the beauty of your smile, we're also concerned about your health. Following our thorough evaluation, we perform a careful diagnosis and provide you with your own individualized treatment plan.
Latest equipment
You'll discover a wealth of information through the appropriate use of the latest equipment and technology.

Drill-free air-abrasion is available where appropriate.

Inhalation Analgesic is available for people who are anxious about visiting the dentist.
Payment options
Direct dental insurance claims are available through Hicaps.
We see Veterans Affairs, Medicare and Victoria Denture Scheme patients.
We accept cash payments, cheques, Eftpos, Visa, MasterCard and American Express.